BIHAR: PLACES TO VISIT
Bihar state boasts four historically important sites: Patna (erstwhile capital of Magadha and called Pataliputra), Nalanda, the first live-in university in the world, Vaishali, the first Republic in the world and where democracy originated, and Bodh Gaya, the place where the Budha meditated under a Bodhi tree and attained enlightenment.
BIHAR STATE STATS:
| | |
| --- | --- |
| Area: 94,16 sq. km (36,357 sq. mi) | Rank: 12th |
| POPULATION (2011): 103,804,637 | Rank: 3rd |
| CAPITAL CITY: Patna | |
| LARGEST CITY: Patna | |
| LITERACY RATE: 63.82% | Rank: 28th |
| HDI: 0.41 | Rank: 21st |
| OFFICIAL LANGUAGE: Hindi, Urdu | |
| Official Website: www.gov.beh.nic.in | |
Please read the article entitled "Tears I Shed for Bihar".
The Resurrection of Nalanda University
The Importance of Patliputra (Patna)
| | |
| --- | --- |
| | BIHAR LOCATOR MAP |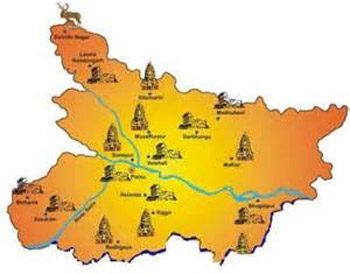 BIHAR TOURIST MAP
CENTRAL: Patna: Capital city. (Patliputra, the capital of Emperor Ashoka)
Nalanda: Ruins of the great Nalanda University. A Buddhist center of learning. When the Buddha, Mahavira and Aryabhata I and many other scholars. Princes and Generals were associated with.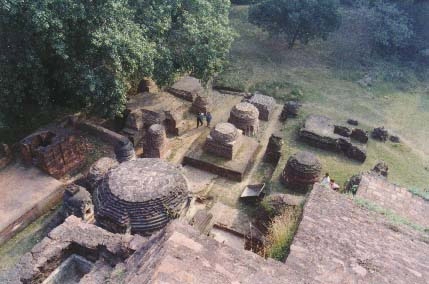 Above are three more views of the ruins of Nalanda University
Vaishali: World's first Republic with duly elected assembly of representatives. Lord Mahavira was born here. Ashoka Pillar at Kolhua.
SOUTH: Bodhgaya:
The site where the Buddha attained enlightenment, 13 Km from Gaya town. The Bodhi tree, Mahabodhi temple etc. The most sacred place for Buddhists.
| | |
| --- | --- |
| | |
| Gaya: Pilgrim center for Hindus | |
STATE SYMBOLS: (COURTESY WIKIPEDIA)
| | | |
| --- | --- | --- |
| State animal | Gaur | |
| State bird | House Sparrow | |
| State flower | Pot Marigold | |
| State tree | Peepal | |
| State seal | | |
TOURIST INFORMATION:
FLIGHTS: http://bihar.com/flight.html
TRAINS: http://bihar.com/train.html
TOURISM: www.bihartourism.gov.in
BIHAR STATE TOURSIM DEPT: Tel: 91-0612-225411
Fax: 91-0612-236218
The Resurrection of Nalanda University
The Importance of Patliputra (Patna)