KERALA CUISINE
SIGNATURE DISHES OF KERALA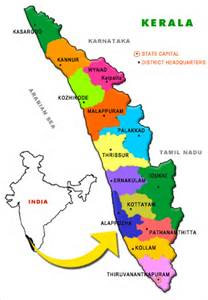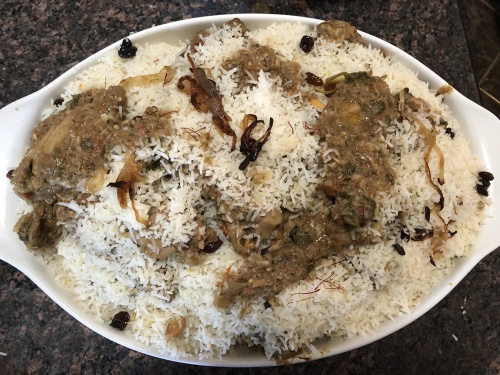 THALASSERY (MALABAR) BIRYANI)
Biriyani is the one ubiquitous dish that non-vegetarians everywhere in Kerala will prepare for special occasions. Chicken, goat or fish biriyani is prepared with long-grain "Biriyani" rice and special condiments and the prepared ingredients are layered. The preparation is completed in an oven or over charcoal fire. The perfume from cilantro leaves (coriander leaves), mint, saffron and rose water, as well as the cloves, cinnamon, cardomom, star anise and the texture and flavor of fried raisins and cashews add a special touch to this splendid dish. Order this dish in any muslim restaurant and go on a special culinary trip!
INGREDIENTS FOR MUTTON BIRIYANI: (Recipe submitted by Mrs. Sudha Dinesh)
MASALA:
2 cloves
1" cinnamon stick
1 star anise
1 mace
1 /4 piece of nutmeg
1 tsp cumin seeds
3/4 tsp sajeerakam (Anise seeds)
1 tsp fennel seeds
4-5 cardamoms
Gently roast the above in the oven and then grind them to a fine powder.
2 tomatoes, sliced
5 big onions
A handful of shallots sliced
10 green chillies, sliced
2 tbsp each of ginger and garlic pastes
2 tbsp ghee
A generous bunch of coriander leaves
2 tbsp of lime juice
PREPARATION:
Marinate the mutton with 1/2 tsp of the above masala, 1 tsp each of ginger, garlic paste ,green chillies crushed, 2 tomatoes and 1 big onion for minimum 2 hours.
Slice 2 big onions and shallots finely. Fry the onions in 1tbsp ghee till golden brown . Add the remaining ginger, garlic and mutton and 1cup water and cook on slow flame till all ingredients reach a soft consistency.
Add 1 tbsp of the masala , coriander leaves and lime juice and simmer till the gravy is thick.
2 1/2 cups of biriyani rice preferably jeerakasala (Basmati rice will do).
Add 5 cups of water
Heat 1tbsp ghee. Fry 2 onions, 2 tbsp each of cashew nuts and raisins till golden brown and keep aside. Add a pinch each of ginger garlic and green chilli paste for 10-15 seconds. Add the rice washed and drained and fry for 2 minutes. Add 4 1/2 cups water and salt and cook till the rice is cooked. Add balance water if necessary.
Mix a little rice with rose water and yellow food color (or sprinkle a few saffron petals) and add to the rice. Spread rice and mutton gravy one after another with fried onions and cashew nut, raisins and coriander leaves. The idea here is to get areas of the masala separated by the rice and the added variety of flavors provided by the sprinkled rose water, saffron and the raisins and cashew nuts. Cover with a tight lid and cook for 10 minutes on slow flame.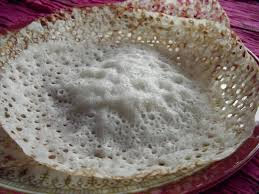 AAPPAM
This quintessential Kerala dish is a favorite Malayalee breakfast item but it can be part of lunch or dinner. It is made from rice flour that is partially fermented and to which coconut milk and salt have been added. The aappam is cooked in a Wok ("Cheenichatti"), by pouring the semi-solid preparation and by gently maneuvering the wok by tilting side to side in such a way that a thicker central portion is accomplished. When prepared properly, the central portion will be sweet and supple and the edges will be thin and crispy. Usually this is eaten with a 'stew' or cocunut milk and forms a staple in all Keralites' homes.
RECIPE: (Submitted by Mrs. Sudha Dinesh)
INGREDIENTS: Raw rice 1 cup, Cooked rice 1/2 cup, Coconut milk 1/2 cup, Sugar 1 Tbsp, Yeast 1/2 tsp, Salt to taste
PREPARATION: Grind the rice and the cooked rice to a fine consistency. Add yeast (the mixture should be at room temperature) and allow to ferment for 6-8 hours (overnight is best). Add coconut milk, salt and sugar to the smooth-flowing batter. Heat an aappam pan, to low heat and smear some cooking oil. Pour a ladle of the batter, then turn and tilt the pan to spread the batter to a thin edge but leaving a thicker area in the middle. Cover the pan and let the aappam cook; when the central portion is cooked and dry, the peripheral skin will be thin and crisp. It will also appear slightly browned.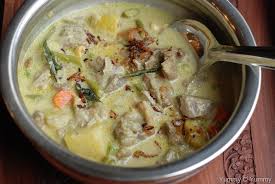 MUTTON STEW
MUTTON STEW: (Chicken, Shrimp or even vegetables may be substituted for mutton) "Stew" is a perfect accompaniment to Aappam but sometimes slices of bread, Chappathi, fried rice or Protta may be also used instead.
RECIPE: (Submitted by Mrs. Sudha Dinesh)
INGREDIENTS: 1/2 Kg mutton, cut into medium pieces, 1 medium sized tomato cut into cubes, 2 medium sized white or yellow onion cut into cubes, 2 medium sized potatoes cut into cubes, approx. 1"x1", 2-3 shallots (for sautéing or seasoning), 1 to 11/2 inch cinnamon stick, 2-3 cloves, 2 tabsp. white pepper ground coarsely, 1 tabs ghee (or 1 inch butter).
FOR MARINATION: 2 inches piece of ginger, crushed, 6-8 green chillies (or 2 jalapeños) slit into slices lengthwise, 2-3 cloves garlic, crushed, Salt to taste.
PREPARATION: Marinate mutton with the above for approx. 1 hour. Grind the coconut with some water and extract the milk. Keep the thick (first) mild for last; cook mutton in the thin milk, along with onions, cinnamon, cloves etc. When the mutton is almost done, add potatoes and tomatoes. When the mutton turns tender and the potatoes are turning soft (the pieces will show a tendency to appear translucent along the edges), add the thick coconut milk and the ground pepper. Simmer for approx.15mins. Oil/ghee will separate, when the stew is done. Fry the thinly sliced shallots until they are golden brown and add it, and two sprigs of curry leaves to the stew (you can also remove the leaves from the stems and add just the leaves).
SAMBAR (Recipe submitted by Mrs. Sudha Dinesh)
Sambar is a staple of all vegetarian cuisines in South India, including Kerala state.
INGREDENTS:
1tsp mustard seeds
3/4 tsp fenugreek seeds
2 tsp urud dal
1tsp cumin seeds
A pinch of asofoetida
Curry leaves
4 red chillies
Dry roast the above ingredients and blend them well.
Drumsticks-2
Ladies finger-6-8
Carrots- 2 medium sized
Elephant yam(Chena)- a small piece
Shallots - 10 nos (pear onions can replace Shalots but the flavor is less intense)
Tomato- 1 medium size
Coriander leaves
1 cup tuvar dal
1/2 tsp turmeric powder
PREPARATION:
Clean and wash the dal and cook it for 2-3 whistles. Soak one and a half tbsp tamarind in water, strain it and add to the dal. Chop the vegetables into medium- sized pieces (approx. 2cm, except drumsticks, which can be twice as long). Add first yam pieces, drumstick, shallots, salt, carrots, ladies finger, one by one and cook till tender. Add chopped tomatoes and 2 tbsp sambar powder and coriander leaves and boil. Season with mustard seeds, dried red chilli and curry leaves, that have been quick-fried in hot oil. Serve with idli, dosa or with other dishes and rice. Please see below, Thalis that also use Sambar as a main dish.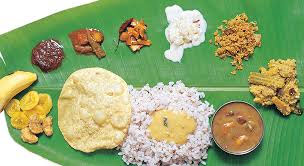 KERALA THALI: This Thali has boiled rice with ghee, pappadam, sambar and several side dishes, including some pickles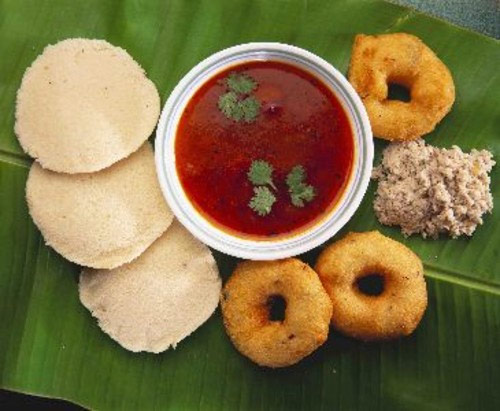 IDDLI, VADA , SAMBAR AND CHUTNEY: These form another group of staple breakfast dishes in Kerala families
PUTTU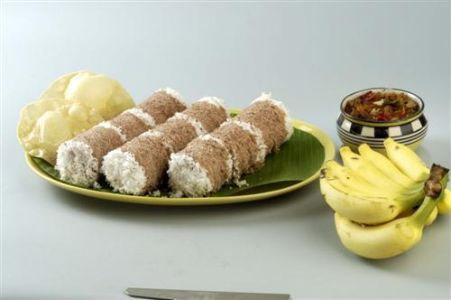 PUTTU ( WITH PLANTAINS, PAPPADAM AND CURRY)
This is another breakfast favorite that is unique to Kerala. It is made with a rough flour of rice (usually brown rice). Portions of this flour is filled in tubular containers fashioned from bamboo stems (sometimes coconut shells may be used instead), alternating with shaven coconut; it is cooked by steaming over a pot. Usually Puttu is eaten with coconut milk, a stew or another curry (a popular curry is made with a particular type of lentil). In the above picture puttu is shown accompanied by plantains and pappadam; the implication is that the plantain may be properly blended with fingers and to which crushed pappadam is added. Some use the blended plantain ("banana" in the US), along with ghee and sugar, which then is mixed in with puttu and eaten.
RECIPE: (Submitted by Mrs. Sudha Dinesh)
INGREDIENTS: 2cups puttu flour, 1/2 tsp salt, 3/4 cup of water, 1 cup grated coconut_ 1/4 cup to mix in the flour.
PREPARATION: In a bowl, mix salt and the puttu flour well. Add 1/4 cup of grated coconut to this mixed puttu flour. Add water a little by little and mix with fingers until the flour holds shape when pressed. Keep aside for 10-15 minutes. Knead the lumps with hands or blend in a blender for just two pulses.
Layer puttu kutty (the long container in which puttu is steamed; however, sometimes the shell of a large coconut, with the 'eyes' hollowed out is used instead of the 'kutty') with 2 tablespoonfuls of freshly grated coconut. Add 3 tablespoons of the puttu flour. Aternate 2 tablespoonfuls of grated coconut, and the puttu flour. Add grated coconut at the top (the final layering) and steam over a pot with the appropriate-sized opening, for 5 mins. (You may use a wet cloth to seal the junction). Open the puttu kitty and extricate the puttu onto a plate lined with banana leaf. Gravity alone might do this, or the puttu may need to by pushed down with a ladle. When the puttu is cooked right, the rice will just stick together and not be too dry.
DOSA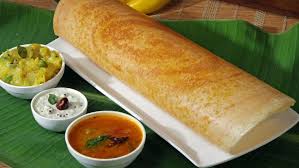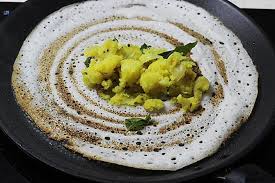 AN IMAGE OF DOSA, MASALA, COCONUT CHUTNEY AND SAMBAR DOSA WITH A PORTION OF MASALA
Dosa is a uniquely South Indian dish, that is also eaten as a breakfast dish or for lunch or dinner. It is also part of an afternoon 'snack', much like iddlies and vadas. It is a prominent item in vegetarian cuisines, especially popular in Tamil Nadu and Karnataka, although they are equally popular in Andhra and Kerala. Masala dosa is dosa folded over potato 'masala' and eaten as a complete dish. Dosa is also popular as 'paper roast' or 'ney (ghee) roast'; in both of these, the top soft layer of dosa is scooped up before it hardens, and discarded. Thus, the remnant retains all the flavors of dosa, but with added emphasis on crispiness. The latter has extra application of ghee to enhance the flavor further. Dosa, whether with or without the 'masala', is enjoyed with varieties of chutneys and/or with sambar. Given below is an authentic recipe for making dosa.
RECIPE: (Submitted by Mrs. Sudha Dinesh)
INGREDIENTS:

"Iddli" rice 3/4 cup, (you can get this in most Indian grocery stores), "Ponni" rice 3/4 cup, Cooked rice 1/2 cup, Urud dal, without skin 1/2 cup, Fenugreek seeds, a pinch, . Water as needed, for use while grinding and salt to taste.
PREPARATION;
Soak the rice and urud dal separately for 3-4 hours. Grind urud dal until smooth and fluffy and keep aside. Grind the rice along with the cooked rice. Add cold water (preferably ice water), as the dough should not be heated. Add the water bit by bit, during the process of grinding. The rice batter should be somewhat grainy (rough); so should the urud dal. Mix both rice and urud batter well and allow to ferment for 8-10 hours; the combined batter will attain a 'pouring' consistency (thick but less so than the idil batter).

A DOSA IN PREPARATION DOSA FOLDED IN HALF
Dosa preparation: Pour a ladle of the fermented, combined batter over a medium hot skillet that has been smeared with ghee and spread gently, in a circular fashion, starting in the middle and moving outward until a stable wafer-thin product is obtained. This takes some practice and also a skillet that has been 'primed' by prior use. If the skillet is too hot, the batter will 'curdle' while one tries to spread the batter. Once the dosa is hardened enough, spread some ghee gently over it with a brush or folded cloth. When the dosa is ready, it will take a golden brown color in the thin areas and the edges and it will be easy to remove it from the skillet.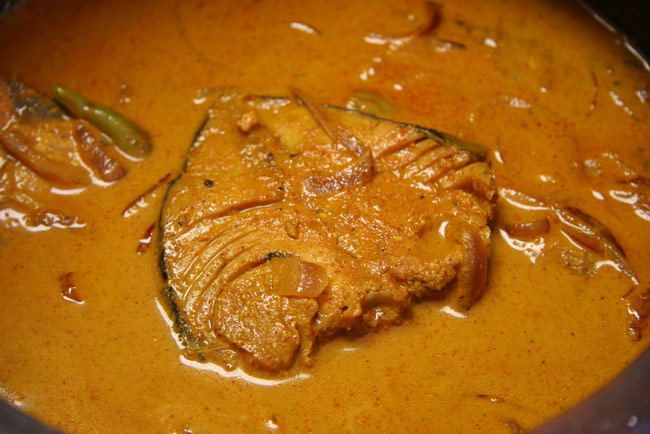 FISH CURRY
INGREDIENTS (Recipe submitted by Mrs. Sudha Dinesh)

Fish (ayakkura (Sear fish) or avoli (Pomfrets or Pompano fish) cut into medium sized pieces)- 4- 5 pieces. The choice of the type of fish depends on the person(s). Any fish with reasonably firm flesh, or even shrimp and other shellfishes can be considered as alternatives. However, crustaceans (crab, clam, scallops etc.) are not suitable for this type of fish curry.

Kudumpuli- (tamarind), 2 pieces soaked in a small amount of water
Coconut grated - 1/2 cup
Ginger chopped- 1/2 inch pieces
Garlic chopped-2
Green chilies slitted- 2
Fenugreek seeds - a pinch
Red chili powder - 2 1/2 tsp
Turmeric powder- 1/2 tsp.
Shallots-2-3 crushed or sliced
Curry leaves
Salt to taste
PREPARATION:
In a pan heat 1 tbsp coconut oil. Add chopped ginger and garlic and sauté for a while and remove from the stove, when they are soft. Add chilli powder and turmeric powder, shallots and coconut grated and make a fine paste.
In a pot add 1 tbsp coconut oil, add a pinch fenugreek seeds, roast for a while; then add the green chillies and a small tomato cut into pieces and sauté for a while. Add kudumpuli-soaked water, curry leaves , coconut paste, and the fish pieces. Add 1 piece soaked puli . Add 1 cup water and mix slowly . Carefully rotate the pot so that the fish pieces won't break (stirring ladle is not recommended!). Cook the curry till the gravy becomes thick and oil separates at the top.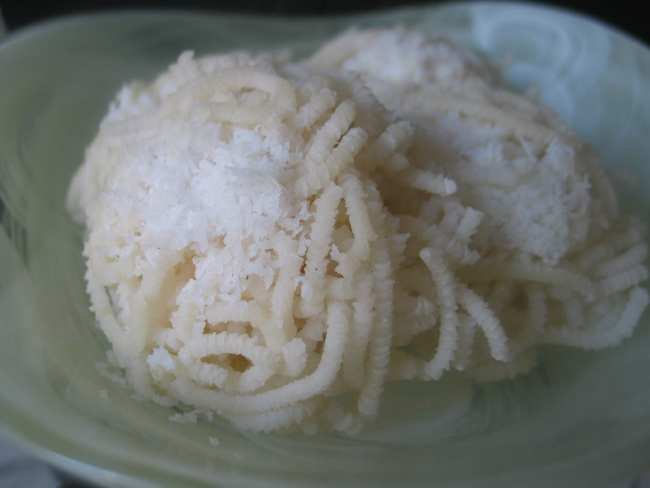 IDIYAPPAM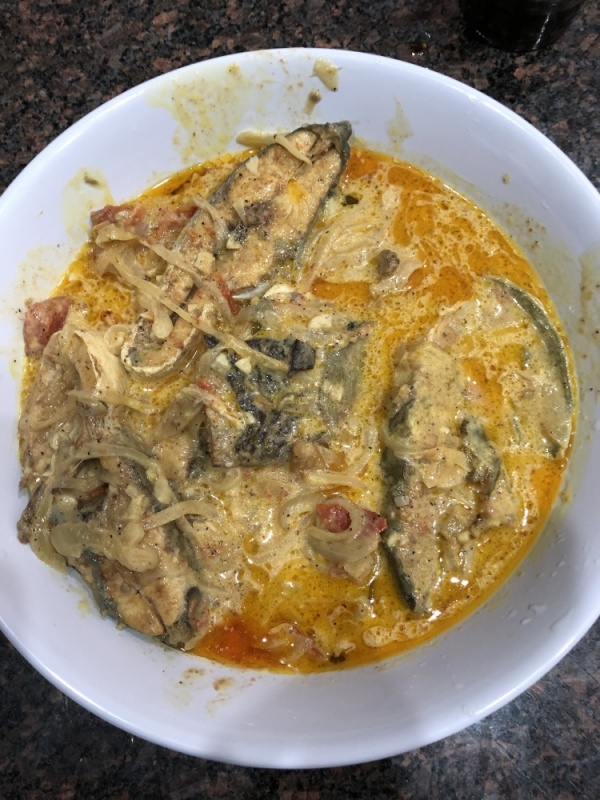 FISH MOLEE (FISH MOLI)
INGREDIENTS: (Recipe submitted by Mrs. Sudha Dinesh)
2 cups of thick coconut milk
1 medium sized onion cut into round pieces
1 medium tomato cut into round slices
1" piece ginger chopped
2-3 green chillies slit
1-2 garlic
1 tsp. chilli powder
1tsp vinegar
2tbsp coconut oil
Curry leaves, 2 sprigs
1/2 kg King fish slices
PREPARATION:
Marinate the fish with a small pinch of turmeric powder, 1/4 tsp chili powder and salt for some time (approx. 20 mins).
Shallow fry the fish in coconut oil and keep aside. Sauté onion, ginger, garlic, green chillies and tomato. Add thin coconut milk and cook for 5 minutes. Add fried fish and curry leaves and thick coconut milk to your preference (do not add too much of the mild as it will make the dish too sweet) and simmer for a while. Serve hot .
KARIMEEN POLLICHATHU
PARIPPU VADA (Masala Vada) (Recipe submitted by Mrs. Sudha Dinesh)
This is a popular savory snack, all over South India.
INGREDIENTS:
Tuvar dal-1 cup
Chanda dal- 1/4 cup
Green chilli- 4 chopped
Red chilli powder- 1 tsp.
Shallots- 5-6 cut into pieces
Ginger- 1inch piece chopped
Salt
Curry leaves, cut into bits,1 sprig
Coconut oil for frying
PREPARATION:
Soak the dal for 2-3 hours , strain it. Grind the dal coarsesly. Add chopped ginger , onions , green chillies and mix well. Add chilli powder, salt, curry leaves and salt.
Wet the hands and form balls and then flatten. Fry in medium hot coconut oi.
UZHUNNU VADA (Urud Dal Vada) (Recipe submitted by Mrs. Sudha Dinesh)
INGREDIENTS:
Urud dal split - 1 cup (250 ml cup)
Water to grind urud dal - 150 ml
Ginger finely chopped - 1 tsp
Curry leaves finely chopped - 1 sprig
Green chilli finely chopped - 2
Black Pepper whole - 1/2 tsp, Black pepper powder - 1/4 tsp
Salt to taste
PREPARATION:
1. Soak urud dal for 1 hour, strain water and grind to a coarse batter.
2. Add remaining ingredients to the batter and mix well.
3. Add water to adjust the consistency of batter if required. The batter should not be too thick or watery.
4. Heat oil. Wet your hands so that the batter does not stick to your hands.
5. Take some batter, make a ball first, flatten out and make a hole in the centre. Deep fry on medium flame until golden brown.
6. Serve with sambar or coconut chutney.
Sometimes this vada is served after soaking in yogurt, instead of serving with sambar and chutney.
ELA ADA (ILA ADA):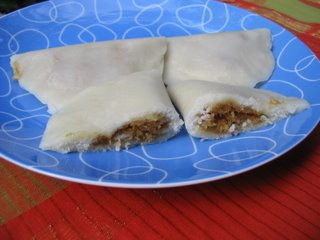 RECIPE: (Submitted by Mrs. Sudha Dinesh)
INGREDIENTS: For the rice 'skin': 1 cup roasted rice flour, approx. 1 cup hot water, 1/4 tsp salt. For the filling: 1/4 tsp cardamom powder, 1 cup grated coconut, 1/2 cup jaggery (brown sugar), powdered, 1 pinch salt, 1/2 tsp ghee. 4 banana leaves (may use Seran wrap instead, if banana leaves are unavailable)
PREPARATION: Mix jaggery, grated coconut, cardamom powder, salt and ghee well. In a pan, containing 1 cup of water, heat until the water boils. Then remove the pan from the stove and add the rice powder. Mix well with a ladle. Add more water to form a chappathi-like consistency dough. Spread oil on all over the banana leaf. Divide the dough into 4 portions. Place each portion on each banana leaf and flatten with fingers into a circular shape on the leaves. Spread the filling on one 1/2 of the leaf. Fold the leaf in half and tuck the ends of the leaf. Place the acas in steamer and steam for 10mins. Serve warm.
PRADHAMAN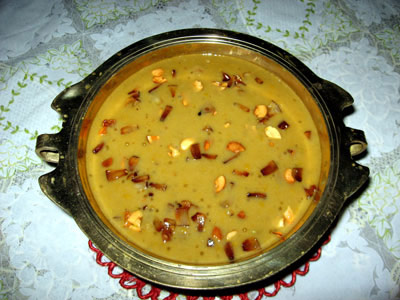 PRADHAMAN (PUDDING)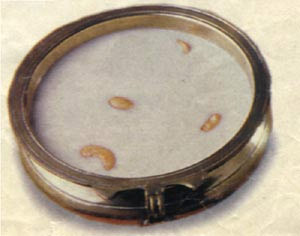 PAAL PAYASAM (RICE PUDDING)