TAJ MAHAL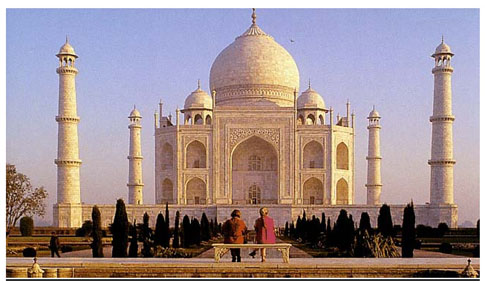 Ever since this marble mausoleum was erected by the fifth Mughal emperor Shah Jahan in memory of his favorite wife Mumtaz Mahal, the Taj Mahal has symbolized eternal love and has served as a classical example of an Indian architectural masterpiece. It is India's Eiffel Tower, its Big Ben, its Great Pyramid and its Great Wall, all rolled into one. Many a writer had searched in vain to describe it in mere words and failed miserably. "Poetry in Marble", Dream in Marble" and many other descriptive terms do not come close to capturing the emotions one experiences during a face to face encounter with the Taj. One comes away awestruck in appreciating not only the symmetry and beauty, the exquisite inlays and intricate patterns but also its sheer size.
The Taj is situated on the banks of the river Yamuna in Agra in the state of Uttar Pradesh in North India. It was built over the course of 17 years (1631 to 1648 AD), by the hard labor of 20,000 laborers and artisans and it cost the phenomenal sum of Rs 4,18,48,427. The main material used for construction, Markana marble was imported from Iran but inlays used many semi-precious stones and others such as neelam, zamurral, ruby, pearl, agate etc. The total height of the monument is 243'6". The structure was designed by Ustad Ahmed Lahauri, and the chief architect was Ustad Isa Afandi of Iran.
While Taj Mahal continues to be the number one attraction for foreign tourists to India, concerns have been raised about the ill-effects of industrial pollutants. Steps have been taken to address this issue but at the threshold of the new millennium, this superb marble edifice still faces this challenge.
The following are some more images of the Taj: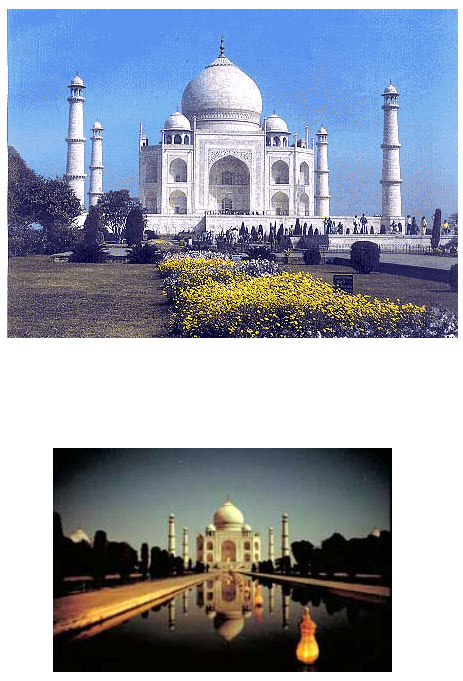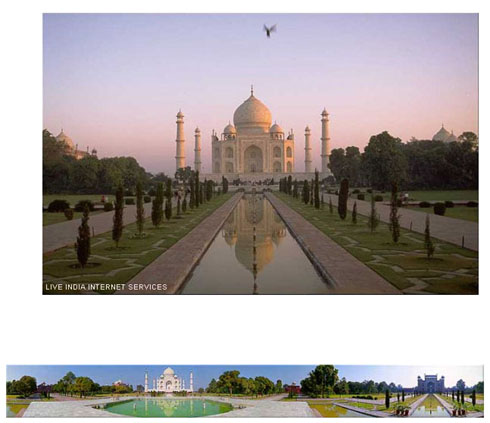 Did you know?!
A particularly gruesome aspect to this tribute in marble to eternal love is the fact that, in the name of preventing the construction of another building of similar grandeur, the Emperor had the thumbs of the architect cut off! Some reports suggest he had actually cut off the whole arms of the architect and many of the workers. I suppose, this adds even more melancholy to the story…