RABINDRANATH TAGORE
(1861- 1941)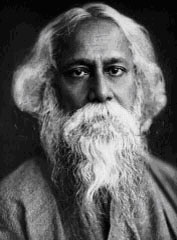 While Tagore is celebrated for his literary achievements, he was also an accomplished music composer, philosopher and painter. He had composed over 2000 songs, for all of which he also wrote the lyrics. India and Bangladesh honored him by choosing his songs for their respective National Anthems. In 1913 his poetic compilation "Gitanjali" ("Song Offering") brought him (and India her first) Nobel Prize in literature and in 1915 Knighthood from the British Crown. Tagore returned this latter award in 1919 in protest against the Amritsar massacre. During his sixty years of literary activities Tagore had composed over 1000 poems, eight novels and almost as many collections of short stories, in addition to scores of works in prose and songs. Many of his works were translated from Bengali to English, also by himself. Rabindranath who was born in Calcutta in 1861 as the youngest son of Devendranath Tagore, was exposed to literature and intellectual discourse from early life. The senior Tagore was also an accomplished writer and was involved deeply in the "Brahmo Samaj" a movement that helped purge many abuses in Hindu society. One of these practices that caught the ire of Devendranath was the "Sati", the self-immolation of widows on the funeral pyre of their husbands. He was also active in raising the educational level of Indians; the institution of Shanti Niketan was started by him and made famous by his poet son.
With such influences, the younger Tagore began writing verses early; in 1890 his collection of songs called Manasi marked the maturing of his genius. During his years managing his father's estate he came in contact with poverty and desperation of the common people and this theme permeated many of his later writings. After his wife and a son and daughter died, the melancholy became the inspiration for his best poetic renderings. When he won acclaim following the Nobel Prize, he was a sought-after speaker in India and abroad. Vishva-Bharati University was Tagore's brainchild. An abridged list of literary works of Tagore is given below and some examples of his poems will follow: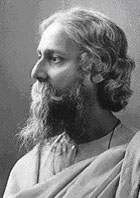 >
A) POEMS:
1) "Manasi" (Ideal one, 1890)
2) "Sonar Tari" (The Golden Boat, 1894)
3) "Gitanjali" (Song Offerings, 1910)
4) "Gitimalya" (Wreath of Songs, 1914)
5) "Balaka" (The Flight of Cranes, 1916)
6) "The Gardener" (1913)
7) "Fruit Gathering" (1916)
8) "The Fugitive" (1921)
B) MAJOR PLAYS:
1) "Raja" (The King of the Dark Chamber,1910)
2) "Dakghar" (The Post Office, 1912)
3) "Achalayatan" (The Immovable, 1912)
4) "Muktadhara" (The Waterfall, 1922)
5) "Raktakaravi" (Red Oleanders, 1926)
C) SIGNIFICANT NOVELS:
1) "Gora" (1910)
2) "Ghare-Baire" (The Home and the World, 1916)
3) "Yogayog" (Crosscurrents, 1929)
A SAMPLING OF TAGORE'S POEMS: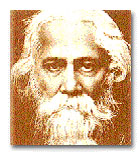 I SEEMED TO HAVE LOVED YOU….

I seemed to have loved you in numberless forms, numberless times,
In life after life, in age after age forever.
My spell-bound heart has made and remade the necklace of songs
That you take as a gift, wear round your neck in your many forms
In life after life, in age after age forever.

Wherever I hear old chronicles of love, its age-old pain,
Its ancient tale of being apart or together,
As I stare on and on into the past, in the end you emerge
Clad in the light of a pole-star piercing the darkness of time:
You become an image of what is remembered forever.

You and I have floated here on the stream that brings from the fount
At the heart of time love of one for another.
We have played alongside millions of lovers, shared in the same
Shy sweetness of meeting, the same distressful tears of farewell-
Old love, but in shapes that renew and renew forever:

Today it is heaped at your feet, it has found its end in you,
The love of all man's days both past and forever:
Universal joy, universal sorrow, universal life,
The memories of all loves merging with this one of ours-
And the songs of every poet both past and forever.
FROM GITANJALI: For further reading and for an introduction by W.B. Yeats refer to:
www.sacred-texts.com/hin/tagore/gitnjali.htm
Pluck this little flower and take it, delay not! I fear lest it droop and drop into the dust.
I may not find a place in thy garland, but honour it with a touch of pain from thy hand and pluck it.
I fear let the day end before I am aware, and the time of offering goes by.
Though its colour be not deep and its smell be faint, use this flower in thy service and pluck it while there is time.
My desires are many and my cry is pitiful, but ever didst thou save me by hard refusals; and this strong mercy has been wrought into my life through and through.
Day by day thou art making me worthy of the simple, great gifts that thou gavest to me unasked…this sky and the light, this body and the life and the mind…saving me from perils of overmuch desire.
Day by day thou art making me worthy of thy full acceptance by refusing me ever and anon, saving me from perils of weak, uncertain desire.
Freedom is all I want, but hope for it I feel ashamed.
I am certain that priceless wealth is in thee, and that thou art my best friend, but I have not the heart to sweep away the tinsel that fills my room
The shroud that covers me is shroud of dust and death; I hate it, yet hug it in love.
My debts are large, my failures great, my shame secret and heavy; yet when I come to ask for my good, I quake in fear lest my prayer be granted.
Where the mind is without fear and the head is held high;
Where knowledge is free;
Where the world has not been broken up into fragments by narrow domestic walls;
Where words come out form the depth of truth;
Where tireless striving stretches its arms towards perfection;
Where the clear stream of reason has not lost its way into the dreary desert sand of dead habit;
This is my prayer to thee, my lord…strike, strike at the root of penury in my heart.
Give me the strength lightly to bear my joys and sorrows.
Give me the strength to make my love fruitful in service.
Give me the strength never to disown the poor or bend my knees before insolent might.
Give me the strength to raise my mind high above daily trifles.
And give me the strength to surrender my strength to thy will with love.
When the heart is hard and parched up, come upon me with a shower of mercy.
When grace is lost from life, come with a burst of song.
When tumultuous work raises its din on all sides shutting me out from beyond, come to me, my lord of silence, with thy peace and rest.
When my beggarly heart sits crouched, shut up in a corner, break open the door, my king, and come with the ceremony of a king.
When desire blinds the mind with delusion and dust, O thou holy one, thou wakeful, come with thy light and thy thunder.
This is my delight, thus to wait and watch at the wayside where shadow chases light and the rain comes in the wake of the summer.
Messengers, with tidings from unknown skies, greet me and speed along the road. My heart is glad within, and the breath of the passing breeze is sweet.
From dawn till dusk I sit here before my door, and I know that of a sudden the happy moment will arrive when I shall see.
In the meanwhile I smile and I sing all alone. In the meanwhile the air is filling with the perfume of promise.
Have you not heard his silent steps? He comes, comes, ever comes.
Every moment and every age, every day and every night he comes, comes, ever comes.
Many a song have I sung in many a mood of mind, but all their notes have always proclaimed, `He comes, comes, ever comes.'
In the fragrant days of sunny April through the forest path he comes, comes, ever comes.
In the rainy gloom of July nights on the thundering chariot of clouds he comes, comes, ever comes. In sorrow after sorrow it is his steps that press upon my heart, and it is the golden touch of his feet that makes my joy to shine.
Thus it is that thy joy in me is so full. Thus it is that thou hast come down to me. O thou lord of all heavens, where would be thy love if I were not?
Thou has take me as thy partner of this wealth. In my heart is the endless play of thy delight. In my life thy will is ever taking shape.
And for this, thou who art the King of Kings has decked thyself in beauty to captivate my heart. And for this thy love loses itself in the love of thy lover, and there art thou seen in the perfect union of two.
The sleep that flits on baby's eyes…does anybody know from where it comes?
Yes, there is a rumour that it has its dwelling where, in the fairy village among shadows of the forest dimly lit with glow-worms, there hang two timid buds or enchancement.
From there it comes to kiss baby's eyes.
The smile that flickers on baby's lips when he sleeps…does anybody know where it was born?
Yes, there is a rumour that a young pale beam of a crescent moon touched the edge of a vanishing autumn cloud, and there the smile was first born in the dream of a dew-washed morning…the smile that flickers on baby's lips when he sleeps.
When I bring to you coloured toys, my child, I understand why there is such a play of colours on clouds, on water, and why flowers are painted in tints…when I give coloured toys to you, my child.
When I sing to make you dance I truly know why there is music in leaves and why waves send their chorus of voices to the heart of the listening earth…when I sing to make you dance.
When I bring sweet things to your greedy hands I know why there is honey in the cup of the flowers and why fruits are secretly filled with sweet juice…when I bring sweet things to your greedy hands.
When I kiss your face to make you smile, my darling, I surely understand what pleasure streams from the sky in the morning light and what delight that is which the summer breeze brings to my body…when I kiss you to make you smile.
I am like a remnant of a cloud of autumn uselessly roaming in the sky, O my sun ever-glorious! Thy touch has not yet melted my vapour, making me one with thy light, and thus I count months and years separated from thee.
If this be thy wish and if this be thy play, then take this fleeting emptiness of mine, paint it with colours, gild it with gold, float it on the wanton wind and spread it in varied wonders.
And again when it shall be thy wish to end this play at night, I shall melt and vanish away in the dark, or it may be in a smile of the white morning, in a coolness of purity transparent.
FROM THE CRESCENT MOON:
"THE BANYAN TREE"

O you shaggy-headed banyan tree standing on the bank of the pond,
Have you forgotten the little child,
Like the birds that have nested in your branches and left you?
Do you not remember how he sat at the window
And wondered at the tangle of your roots that plunged underground?
The women would come to fill their jars in the pond,
And your huge black shadow would wriggle
And on the water like sleep struggling to wake up.
Sunlight danced on the ripple like restless tiny shuttles weaving golden tapestry.
Two ducks swam by the woody margin above their shadows, and the child would sit still and think
He longed to be the wind and blow through your rustling branches, to be your shadow and lengthen with the day on the water,
To be a bird and perch on your topmost twig, and to float like those ducks among the weeds and shadows.
"THE LAND OF THE EXILE"
Mother, the light has grown grey in the sky; I do not know what the time is.
There is no fun in my play, so I have come to you. It is Saturday, our holiday.
Leave off your work, mother; sit here by the window and tell me where the desert of Tepantar in the fairy tale is.
The shadow of the rains has covered the day from end to end.
The fierce lightning is scratching the sky with its nails.
When the clouds rumble and it thunders, I love to be afraid in my heart and cling to you.
When the heavy rain patters for hours on the bamboo leaves, and our windows shake and rattle at the gusts of wind, I like to sit alone in the room, mother, with you and hear you talk about the desert of Tepantar in the fairy tale.
Where is it, mother on the shore of what sea, at the foot of what hills, in the kingdom of what king?
There are no hedges there to mark the fields, no footpath across it by which the villagers reach their village in the evening, or the woman who gathers dry sticks in the forest can bring her load to the market. With patches of yellow grass in the sand and only one tree where the pair of wise old birds have their nest, lies the desert of Tepantar.
I can imagine how, on such a cloudy day, the young son of the king is riding alone on a grey horse through the desert, in search of the princess who lies imprisoned in the giant's palace across that unknown water.
When the haze of the rain comes down in the distant sky, and the lightning starts up like a sudden fit of pain, does he remember his unhappy mother, abandoned by the king, sweeping the cow-stall and wiping her eyes, while he rides through the desert of Tepantar in the fairy tale?
See, mother, it is almost dark before the day is over, and there are no travelers yonder on the village road.
The shepherd boy has gone home early from the pasture, and men have left their fields to sit on mats under the eaves of their huts, watching the scowling clouds.
Mother, I have left all my books on the shelf-do not ask me to do my lessons now.
When I grow up and am bid like my father, I shall learn all that must be learnt.
But just for today, tell me, mother, where the desert of Tepantar in the fairy tale is.
PAPER BOATS:
Day by day I float my paper boats one by one down the running stream,
In big black letters I write my name on them and the name of the village where I live.
I hope that someone in some strange land will find them and know who I am.
I load my little boats with shiuli flower from our garden, and hope that these blooms of the dawn will be carried safely to land in the night.
I launch my paper boats and look up into the sky and see the little clouds setting thee white bulging sails.
I know not what playmate of mine in the sky sends them down the air to race with my boats!
When night comes I bury my face in my arms and dream that my paper boats float on and on under the midnight stars.
The fairies of sleep are sailing in them, and the lading in their baskets full of dreams.
BENEDICTION:
Bless this little heart, this while souls that has won the kiss of heaven for our earth.
He loves the light of the sun, he loves the sight of his mother's face.
He has not learned to despise the dust, and to hanker after gold.
Clasp him to your heart and bless him. He has come into this land of a hundred crossroads.
I know not how he chose you from the crowd, come to your door and grasped your hand to ask his way.
He will follow you, laughing and talking, and not a doubt in his heart.
Keep this trust, lead him straight and bless him.
Lay your hand on his head and pray that though the waves underneath grow threatening,
Yet the breath from above may come and fill his sails and waft him to the heaven of peace.
"MY SONG"
This song of mine will wind its music around you, my child, like the fond arms of love.
The song of mine will touch your forehead like a kiss of blessing.
When you are alone it will sit by your side and whisper in your ear, when you are in the crowd it will fence you about with aloofness.
My song will be like a pair of wings to our dreams, it will transport your heart to the verge of the unknown.
It will be like the faithful star overhead when dark night is over your road.
My song will sit in the pupils of your eyes, and will carry your sight into the heart of things.
And when my voice is silenced in death, my song will speak in your living heart.
"THE GARDENER"
If you would have it so, I will end my singing.
If it sets your heart aflutter, I will take away my eyes from your face.
If it suddenly startles you in your walk, I will step aside and take another path.
If it confuses you in your flower-weaving, I will shun your lonely garden.
If it makes the water wanton and wild, I will not row my boat by your bank.
"HARD TIMES"
Music is silenced, the dark descending slowly
Has stripped unending skies of all companions.
Weariness grips your limbs and within the locked horizons
Dumbly ring the bells of hugely gathering fears.
Still, O bird, O sightless bird,
Not yet, not yet the time to furl your wings.
It's not melodious woodlands but the leaps and falls
Of an ocean's drowsy booming,
Not o grove bedecked with flowers but a tumult flecked with foam.
Where is the shore that stored your buds and leaves?
Where the nest and the branch's hold?
Still, O bird, my sightless bird,
Not yet, not yet the time to furl your wings.
Stretching in front of you the night's immensity
Hides the western hill where sleeps the distant sun;
Still with bated breath the world is counting time and swimming
Across the shoreless dark a crescent moon
Has thinly just appeared upon the dim horizon.
--But O my bird, O sightless bird,
Not yet, not yet the time to furl your wings.
From upper skies the stars with pointing fingers
Intently watch your course and death's impatience
Lashes at you from the deeps in swirling waves;
And sad entreaties line the farthest shore
With hands outstretched and crooning 'come, O come'
Still O bird, O sightless bird,
Not yet, not yet the time to furl your wings.
All that is past: your fears and loves and hopes;
All that is lost: your words and lamentation;
No longer yours a home nor a bed composed of flowers.
For wings are all you have, and the sky's broadening courtyard,
And the dawn steeped in darkness, lacking all direction.
Dear bird, my sightless bird,
Not yet, not yet the time to furl your wings.
"FIRE FLIES"
I touch God in my song
As the hill touches the far-away sea
With its waterfall.
The butterfly counts not moths but moments,
And has time enough.
Let my love, like sunlight, surround you
And yet give you illumined freedom.
Love remains a secret even when spoken,
For only a lover truly knows that he is loved.
Emancipation from the bondage of the soil
Is no freedom for the tree.
In love I pay my endless debt to thee
For what thou art.
"WHERE THE MIND IS WITHOUT FEAR"
Where the mind is without fear and the head is held high
Where knowledge is free
Where the world has not been broken up into fragments
By narrow domestic walls
Where words come out from the depth of truth
Where tireless striving stretches its arms towards perfection
Where the clear stream of reason has not lost its way
Into the dreary desert sand of dead habit
Where the mind is led forward by thee
Into ever-widening though and action
Into that heaven of freedom, my Father, let my country awake.
THE NATIONAL ANTHEM
Rabindranath Tagore composed the Indian National Anthem, "Jana-Gana-Mana".
It reads as follows:
"Jana gana mana adhinayaka, jaya he
Bharata bhagya vidhata
Punjabi, Sindh, Gujarat, Maratha,
Dravida, Utkala, Banga
Vindhya Himachala Yamuna Ganga
Uchchala jaladhi taranga.
Tava shubha name jage,
Tava shubha asisa mage,
Jana gana mangala dayaka jaya he
Bharata bhagya vidhata
Jaya he, jaya he, jaya he,
Jaya he, jaya he, jaya he!"

The English translation is as follows:

"You are the ruler of the minds of all people,
Dispenser of India's destiny.
Your name rouses the hearts of Punjab, Sind,
Gujarat and Maratha,
And of the Dravida, Orissa and Bengal;
It echoes in the hills of the Vindhyas and Himalaya,
Mingles in the music of the Yamuna and Ganga and
Is chanted by the waves of the Indian Sea.
They pray for your blessings and sing your praise.
The safety of all people waits in your hand,
You the dispenser of India's destiny.
Victory, victory, victory to you"
BIBLIOGRAPHY:
1) http://www.schoolofwisdom.com/tagore-bio.html
2) http://userpages.umbc.edu/~achattl/Bio/rabi.html
3) http://lit.edu/~shartan/tagore/crescent.html
4) http://www.indolink.com/Poetry/tagore2.html
5) http://www.geocities.com/Paris/Louvre/2618/rabi/rabiintro.htm