ZOROASTRIAN FESTIVALS
by Dr. Venugopal Menon
About 60,000 Parsis or Zoroastrians live in India. They arrived from Persia (modern-day Iran) to escape religious persecution by the Muslim majority, between the 8th and 10th centuries CE. They live mostly around Mumbai and a few live in Karnataka. They believe in one God, Ahura Mazda (Wise Lord), who is compassionate, omniscient, and the creator of the universe. They have a flair for commerce and are wealthy from businesses and trades, charitable and law-abiding people, and one of the finest communities in India.
Some of the Parsi festivals are Jashans, Mehragan, Tiregan, Sadeh, Abanagan, Adargan, Farwardgan, and Gahambars. Most of these festivals are celebrated as austere events without any pomp and glory in their temple or at homes.
Gahambars:
These are six seasonal festivals, each for five days and commemorating the sanctity of universal creations of God, namely the earth, water, plants, animals, and humans, reciting scriptures and people coming together and enjoying a feast.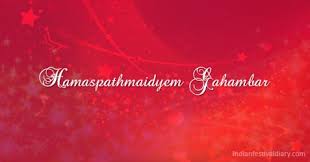 There are monthly festivals celebrated in honor of the divine entities, to whom a day of the month and a month of the year are dedicated. These are the Jashn days.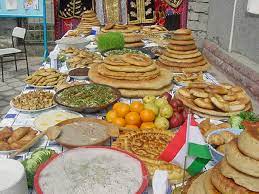 Farwardgan is dedicated to the guardian angels, Tiregan to the rains, Abanagan to the waters, Adargan to the fire, Mehregan in honor of Mithra, Sadeh being similar to Sankranthi.
Nouruz:
(March 21)
Nouruz is the most important festival for the Parsis; it falls on March 21. The day is celebrated as a mark of respect for the Creator, the birth of the spiritual and material world, the elements of earth, that are believed to be an extension of the Creator. The Zoroastrians visit the temple on that day, offer prayers, meet relatives and friends and spend the evening in Jashn.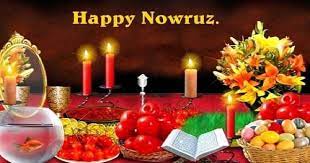 Thanksgiving:
Thanksgiving is a ceremony of blessings, performed outside the premises of a temple, in a clean place with priests conducting the ceremony. The purpose is to enhance the purity and integrity of the visible and invisible worlds and to bring good tidings to the people.
Khordad Sal:
(Aug/September)
This is the birth anniversary of Zoroaster which falls on the 6th day in the first month the of Parsi calendar, around August/September.