WEST BENGAL
by Dr. Venugopal Menon
A state in the eastern region, along the Bay of Bengal and bordering Bangladesh, West Bengal was part of many empires like the Mauryans, the Goudas, and the Guptas. The region has been a hotbed of the Indian Independence movement and has remained one of India's artistic and intellectual centers. Following widespread religious conflicts between Hindus and Muslims, the state was partitioned in 1947 as Hindu-dominated West Bengal being part of India and East Bengal with a Muslim majority as part of Pakistan. The Bengali language is renowned for its rich literary heritage, the tradition of poetry, folk arts, and for its illustrious people like Vivekananda, Rabindranath Tagore, Bankim Chandra Chatterjee, Satyajit Ray, and several others.
There is a saying in Bengal that it has 'thirteen festivals in twelve months. The state's biggest festival of Durga Puja, or Kali Puja, Holi, and others have been covered earlier.
Pahela Baishakh:
(April 14 or 15)
Also known as Pohela Boishakh, this is the first day of the Bengali calendar which is the official calendar of Bangladesh. This festival is celebrated on 14th April in Bangladesh and 15th April in the Indian states of West Bengal, Tripura, and Assam (Barak Valley) by Bengalis regardless of their religious faith.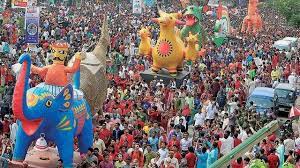 Pahela Baishakh traces its roots back to Mughal rule in this region and also the proclamation of tax collection reforms of Akbar. The festival is celebrated with processions, fairs, and family time. The traditional greeting for Bengalis in the new year is "Shubho Noboborsho" which is literally "Happy New Year". The festive Mangal Shobhajatra is organized in Bangladesh. In 2016, UNESCO declared this festivity organized by the Faculty of Fine Arts Under the diversity of Dhaka, as a cultural heritage of humanity.
Vishwakarma Jayanti:
(September 16 or 19)
This is a day of celebration for Vishwakarma, a Hindu god, the divine architect. He is considered the creator of the world. He constructed the holy city of Dwarka where Krishna ruled, the Maya Sabha of the Pandavas, and was the creator of many fabulous weapons for the gods. He is also called the divine carpenter, is mentioned in the Rig Veda, and is credited with Sthapatya Veda, the science of mechanics and architecture. It is generally celebrated every year on September 16 or 19, which is on the last day of the Indian Bhado month, in the Solar calendar. The festival is observed primarily in factories and industrial areas, often on the shop floor. As a mark of reverence, the day of worship is marked by the engineering and architectural community, by the artisans, craftsmen, mechanics, smiths, welders, industrial workers, factory workers and others. They pray for a better future, safe working conditions and, above all, success in their respective fields. Workers also pray for the smooth functioning of various machines.