UTTARAKHAND
by Dr. Venugopal Menon
On November 9, 2000, the state of Uttaranchal—the 27th state of India—was carved out of Uttar Pradesh, and in January 2007 the new state changed its name to Uttarakhand, meaning "northern region," which was the traditional name for the area. The area is known for its pilgrimage sites, with the sacred Ganga river and its spiritual gatherings, Rishikesh as a Yoga center, and the wildlife shelters of Bengal tigers. The state is also famous for its literary traditions, its ornate temples, wood carving, Pahari and Gangra painting, handicrafts Uttarkhand cuisine, and dances and music.
Haridwar Kumbh Mela:
One of the major Hindu pilgrimages, Haridwar Kumbh Mela, takes place in Uttarakhand. Haridwar is one of the four places in India where this mela is organized and most recently hosted the Purna Kumbh Mela from Makar Sankranti to Vaishakh Purnima Snan, dipping in the sacred waters. Hundreds of foreigners join Indian pilgrims in the festival, which is considered the largest religious gathering in the world.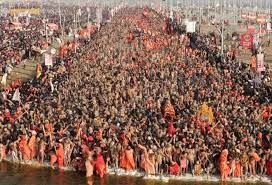 The festivals of Kumbh Mela at Haridwar, Ramlila, the traditions of Vedic chanting, and Yoga are included in the list of intangible cultural heritage of the UNESCO.