UTTAR PRADESH
by Dr. Venugopal Menon
The world's most populous county subdivision with the most population in India, UP is the area of Triveni, the sacred confluence of three rivers, Ganga, Yamuna, and mythical river Saraswati. In 2000, a new state Uttaranchal (now Uttarkhand) was carved out of this state. It is a state with many heritage sites, pilgrimage centers, historical and tourist destinations. Place of creation of many Vedic texts, renowned for its Hindi language writers and poets, folklores, and often referred to as the Hindi heartland. Its music traditions are several; Sohar, Kajari, Gazal, Thumri, Qawwali, Rasiya depicting the divine love of Krishna and Radha and others. The famous Kathak dance hails from UP.
Diwali, Rama Navami, Kumbh Mela, and Holi are celebrated on a grand scale in the state.
Taj Mahotsav:
Held annually in Shilpgram near the eastern gate of Taj Mahal, Taj Mahotsav is a colorful display of the culture of the Braj area. This ten-day-long carnival, a vibrant platform displaying India's rich arts, crafts, cultures, cuisines, dance, and music. Taj Mahal is the most beautiful, historic place in the country, is the appropriate site to exhibit the diverse riches of Incredible India.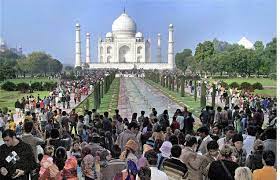 The festival also invokes the memories of the old Mughal era and also the Navabi style of the 18th and 19th centuries. About 400 artisans from different parts of India assemble there grabbing the opportunity to display their talents and India's panoramic cultural contributions to the world.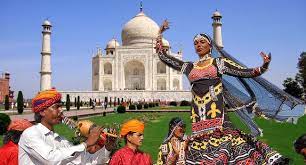 Ganga Mahotsav:
The river Ganga has been a sacred river for Hindus for ages. She is considered the Goddess 'who washes away the sins' and millions come to take a holy bath in her. They put forward flowers and floating oil or ghee lamps and save the holy waters for making use of it in a variety of Hindu rituals.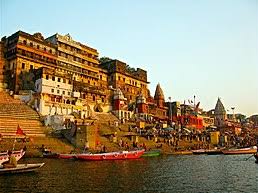 The festival Ganga Mahotsav is five days long and sends a message to all about the spiritual and religious beliefs and culture of Varanasi city. It is believed that Ganga nourishes the Varanasi civilization fa or long and it has been of great religious importance to Hindu society. Pilgrims celebrate the event by performing Indian classical style music and dance. Many luminaries irrespective of their religious beliefs participate and perform at the Ganga Mahotsav.