TELANGANA
by Dr. Venugopal Menon
This is Telugu state created from parts of Andhra Pradesh in 2014, from ongoing protests from a section of the people who demanded and agitated such independence. Hyderabad, its capital and cultural heart used to be ruled by the Nizam until 1956. The state has a mixture of Persian traditions from the Mughals who ruled, along with that of south India.
Bonalu:
(July/August)
A Telangana traditional Hindu festival centered on the Goddess Mahakali, with origins traced to the 18th century. This festival is celebrated annually in the twin cities of Hyderabad and Secunderabad, as well as in other parts of the state. It is celebrated in the month of Ashada Masam, which is around July and/or August. The name Bonam is from the Sanskrit word Bhojanam, meaning a feast. Women prepare rice cooked with milk and jaggery in an earthen pot adorned with neem leaves, turmeric, and vermillion. It is believed that Goddess Mahakali makes her annual visit to her parental home during this time.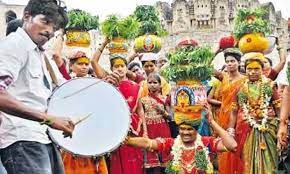 Bathukamma:
Dedicated to Goddess Parvathi, Gauri Devi, and celebrated for nine days during Navarathri, this festival is to herald the abundance offered by nature. Bathukamma means 'festival of life' when the goddess is felicitated with traditional celebrations.