SIKKIM
by Dr. Venugopal Menon
This north-eastern, least populous, and smallest state borders China, Bhutan, and Nepal, as also is close to the Siliguri Corridor near Bangladesh. It is host to Kanchenjunga, the highest peak in India, as well as 35% of it is covered by the Khangchendzonga National park, a UNESCO Heritage Site. It was a princely state ruled by a king until 1973 when the Indian army had to interfere against an anti-royalist group and Sikkim joined India as its 22nd state. A most environmentally conscious state, it is also the highest producer of cardamom.
Sikkim's majority Nepalese celebrate all Hindu festivals, while the major festivals are Buddhist celebrations, and the Muslims do so with Muharram and Eid ul-Fitr.
Losar:
(February or March)
The Tibetan New Year is celebrated by Sikkim as a Buddhist festival, that falls in February or March. Losar predates Buddhism and has its roots in a winter incense-burning custom of the Bon religion. During the ninth Tibetan king's rule, it was merged with the harvest festival.
During the celebration, people go to a local spring to perform a ritual of gratitude and make offerings to the nagas. The event is a gesture of relating to the elements of nature, originated by sages, the concept being the sacred connection of the internal and external elements. The celebrations last 15 days, with Chinese, Tibetans, Mongols, and Indian traditions having influences.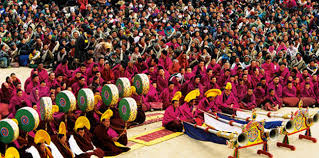 Saga Dawa:
One of the most famous festivals of Sikkim, this is an event of Mahayana Buddhism, commemorating Lord Buddha's birth, his attainment of enlightenment, and salvation from the corporeal world. This provides a visual treat of various religious ceremonies and street processions of the Buddhist culture.