RAJASTHAN
by Dr. Venugopal Menon
'The Land of Kings' as Rajasthan means, it is the largest Indian state by area, located on the northwest side of the nation. Thar desert occupies a wide area and borders Pakistan. Major features include the ruins of Indus Valley Civilization, the Dilwara temples, a Jain temple in its hill station Mount Abu and Keolaedo, a world heritage site for its birdlife. Its Ranthambore national park is home to three tiger reserves. The Rajputs, famous for their warfare and chivalry, put up resistance to the Islamic invasions for centuries. Emperor Vikramaditya, Maharana Pratap, and Rana Amar Singh are noted names in the annals of Indian history. It is culturally rich and varied with its ancient Indian traditions; Classical music and dance, its cuisine, colorful arts, handicraft, wood furniture, carpets, pottery, and the like.
Gangaur Festival:
(March/April)
It is one of the most important festivals, falling after Holi, in March-April, and is celebrated for 18 days in honor of Goddess Parvathi mostly by the womenfolk of Rajasthan. Images of the goddess are made of clay or painted wood, the married ladies and unmarried girls applying mehndi, the red, vegetable dye on their hands, participating and honoring Parvathi/Gauri, and finally submerging the images in water. The festival in Jaipur is most famous all over the world. There are processions with palanquins, chariots, bullock carts, and folk artists; A sweet dish called ghewar is characteristic of the festival. Udaipur has a dedicated ghat named after the festival situated on the waterfront of Lake Pichola, the prime location for the festival. The festival is also the consequent celebration of the harvest.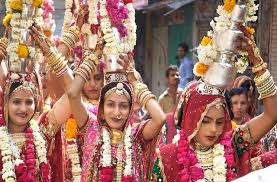 Desert Festival of Jaisalmer:
(February)
Happening during February, in the Thar desert, this festival is an expressive way to indulge in the glorious heritage of Rajasthan. There is an abundance of celebrations with vibrant puppet shows, folk music and dance, camel races, camel polo matches, tug of war, juggling events, turban tying, and the longest mustache competition. Participants wear colorful traditional attires and display the best of Rajasthani folk culture and traditions.