ODISHA
by Dr. Venugopal Menon
Is located in eastern India, with about 300 miles of coastline along the Bay of Bengal, and is mentioned as Utkala in the Indian National Anthem. This ancient kingdom of Kalinga, invaded and defeated by Maurya emperor Ashoka in the Kalinga war, was established as Orissa province in 1936 by the British. The state is famous for its heritage sites, beaches, pilgrimage places like Puri and Jagannath, and other tourist attractions, along with its culinary traditions, and Odissi dance.
Rath Yatra:
(July)
The Festival of Chariot, of Shri Jagannath, is celebrated every year at Puri, the temple town in Odisha, on the second day of the waxing cycle of the moon, in Ashadh Masa (July). The presiding deities of the Jagannath Temple, Lord Jagannath, with the celestial wheel- Sudarshana Chakra are removed from the temple in a ceremonial procession to their chariots. The huge, colourfully decorated chariots are drawn by multitudes of devotees on the grand avenue to the Gundicha Temple two miles away to the North. On their way back, the three deities stop for a while near the Mausi Maa Temple (Aunt's abode) and have an offering of the Poda Pitha, which is a special type of pancake supposed to be the Lord's favorite. After a stay for seven days, the deities return to their abodes.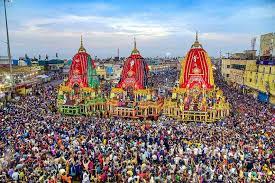 Raja Parba:
(Mid-June)
This is a three-day-long festival of womanhood celebrated, in mid-June, the first day called Pahili Raja, the second day is Mithuna Sankranti, and the third day is Bhu daaha or Basi Raja. The final fourth day is called Vasumati snana, in which the ladies bathe with turmeric paste and adorn with flower, sindoor, etc. All types of seasonal fruits are offered to mother Bhumi (Mother Earth). During these three days, women and girls take a rest from work and wear new Saree, Alata, and ornaments. Just as the earth prepares itself to quench its thirst by the incoming rain, the unmarried girls of the family are groomed for impending matrimony through this festival. They pass these three days in joyous festivity and observe customs like eating only uncooked and nourishing food especially Poda Pitha, do not take bath or take salt, do not walk barefoot, and vow to give birth to healthy children in the future. The most vivid and enjoyable memories one has of the Raja gaiety are the rope swings on big banyan trees and the lyrical folk songs that one listens from the nubile beauty enjoying the atmosphere.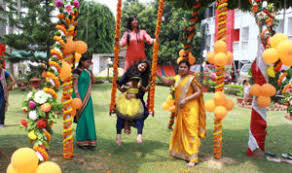 According to popular belief, as women menstruate, which is a sign of fertility, so also Mother Earth menstruates. So all three days of the festival are considered to be the menstruating period of Mother Earth. As a mark of respect towards the Earth during her menstruation days, all agricultural work comes to a standstill during these days. The young men of the village keep themselves busy in various types of country games, the most favorite being 'Kabadi'.