NAGALAND
by Dr. Venugopal Menon
This mountainous north-eastern state was formed in 1963; it has experienced insurgency and inter-ethnic conflicts, leading to limited economic development and the only state with a population decline. It is home to about 16 tribes, the majority being the Nagas, their ancestors perhaps migrating from China. The state has a Christian majority and a high literacy rate. Rice, millet, maize, pulses, sugarcane, potato, coffee, and cardamom are the cultivated crops, along with bamboo weaving and wood carving as its crafts. The name may have a Burmese origin Na-Ka meaning 'people with earrings', or perhaps, from the Sanskrit word 'naga' the serpents. There are numerous festivals related to their many tribes, but the following maybe some of the most popular.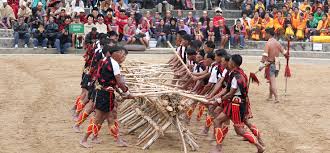 Hornbill Festival:
(December)
Launched by the government in December 2000 to encourage inter-tribal interaction and to promote the cultural heritage of the state. The Festival showcases a mélange of cultural displays under one roof, held at Naga Heritage Village, Kisama, and named after the hornbill bird, that is mentioned in their folklores. The week-long festival unites Nagaland to enjoy the colorful performances, crafts, sports, food fairs, games, and ceremonies, as well as displaying their paintings, wood carvings, and sculptures.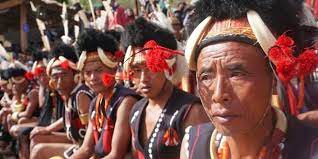 The festival highlights the exhibition and sale of arts and crafts, food stalls, herbal medicine stalls, cultural medley – songs and dances, fashion shows, traditional archery, Naga wrestling, indigenous games, and musical concerts. Additional attractions include the Konyak fire eating demonstration, literature Festival, film Fest, and several other interesting items.
Sekrenyi:
Locally known as Phousanyi, a 'purification festival', Sekrenyl is an annual ten-day event of Angami Nagas, the objective being to cleanse the body and soul, to bring forth unity, and to initiate young ones to adulthood, and celebrated by both Kruna and Christian Angamis. There are many rituals involved in the event. Starting with 'Kezie', people sprinkling rice water gathered in leaves, men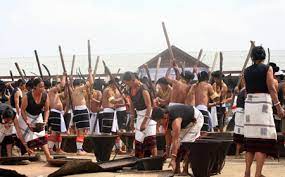 performing ablutions and adorning new shawls, followed by singing and dancing and feasting, young people with shaven heads participate in the revelry. It is followed by hunting, pulling down an old gate, as the villagers start exchanging visits, offering greetings, and restarting another year.