MIZORAM
by Dr. Venugopal Menon
Another north-eastern state, 'land of the Mizos', is in the old-Assam region. About 95% of the population descends from a diverse tribal origin, but with a Christian majority. A highly literate, agrarian community, with horticulture and bamboo products bringing in high revenue. The culture has changed since Christianity came in the 1890s.
Chapchar Kut Festival:
(March)
Celebrated during March after completion of the arduous task of jhum operation, or jungle clearing and burning the remnants. The festival may have started about 1450-1700 AD in a village called Suaipui when the hunters came back to the village, often empty-handed and the village chief proposed a feast with rice beer, and meat. People dance, perform skills, play musical instruments, hoping to bring camaraderie to the community.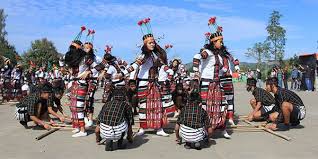 The other two festivals in Mizoram are Mim Kut and Pawl Kut revived in the last century.