MAHARASHTRA
by Dr. Venugopal Menon
The second most populous state in the western, Deccan peninsula, with the capital Mumbai (old Bombay), this prosperous state plays a significant role in the industrialized, economic and socio-political aspects of India. Maratha empire, with the legendary Shivaji, was perhaps the most counter-power to the British, with Chalukya, Chola, Yadava, and Sultanate names connected to its history. The freedom struggle of India always respectfully recognizes the names like Bal Gangadhar Tilak, Govind Ranade, Gopal Krishna Gokhale, and Dadabhai Naoroji.
The state has four UNESCO World Heritage sites, Ajanta, Ellora, and Elephanta caves, Shivaji Maharaja (Victoria) Terminus, which make it one of the most popular tourist destinations. Their Warli paintings, Kolhapuri chappals, Lavani folk songs, Pav Bhaji and Puran Boli, are recognized names. In addition to the festivals listed as mainstream Indian, the following may be of interest to some.
Gudi Pawda:
This is a spring-time festival that marks the traditional new year for Marathi and Konkani Hindus along with other fellow Hindus. It is celebrated in and near Maharashtra and Goa on the first day of the Chaitra month to mark the beginning of the New year according to the lunisolar Hindu calendar. The festival is observed with colorful floor decorations called rangoli, a special Gudhi flag garlanded with flowers, mango, and neem leaves, topped with upturned silver or copper vessels, street processions, dancing, and festive foods. The Sindhi community celebrates this day as Cheti Chand as their new year and is observed as the emergence day of Lord Jhulelal.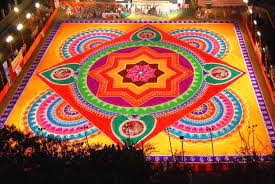 Naga Panchami:
(July/August)
This is a day of traditional worship of snakes (Nagas) observed by Hindus throughout India, Nepal, and other countries where Hindu adherents live. The worship is offered on the fifth day of the bright half of the lunar month of Shravana (July/August), according to the Hindu calendar. As part of the festivities, a Naga or serpent deity made of silver, stone, wood, or a painting of snakes is given a reverential bath with milk, and their blessings are sought for the welfare of the family. Live snakes, especially cobras, are also worshipped on this day, with offerings of milk and generally with the assistance of a snake charmer. The event has reference to the narration of sage Vaisampayana, about the attempt of King Janamejaya to decimate all snakes and avenge the death of his father Parikshit by the deadly bite of Takshaka, the king of snakes. Sage Astika interfered and the sacrifice was stopped, the day is celebrated as Naga Panchami.