MADHYA PRADESH
by Dr. Venugopal Menon
As the word means, it is a state in central India. The region was ruled by many dynasties, including the Mughals, afterward the Maratha empire dominating during the 18th century. After the Anglo-Maratha wars, in the 19th century, the region was divided into several princely states under the British. The state is backward, stricken with poverty, substantial discrimination of scheduled communities, and female foeticides. It is noted for its classical and folk music with the legendary Tansen and Baiju Bawra hailing from there, along with its legendary modern-day singers Lata Mangeshkar and Kishore Kumar. The state also is noted for the largest reserves of diamond and copper in India.
Lokrang Festival:
(January 26) The five-day spectacular show of folk dance and music, the Lokrang festival is one of the most famous that is celebrated in Bhopal. 'Lok' meaning people and 'Rang', color, this is a colorful melange of arts, commencing on the Republic Day of India, January 26, every year. This is an extravagant exhibition of vibrant culture, ancient art forms, and melodious music from every part of the country and the globe, making it a must-do in Madhya Pradesh. India being a country with many culturally diverse states, the organizing committee of this festival decides to showcase the diversity of a particular part of a theme of the country each year. It could be the 'Ramayni' dedicated to theatrical presentations of the Gond tribe, or of the heritage of Indian culture 'Dharodar' with music and dance, or the artists from outside India showing their talents in 'Deshantar', or the display of handicrafts in the 'Aakar' show, a show of the toddlers, 'Ullas', or one of delicacies and cuisines, 'Swad' or a book fair, 'Lokwarta'.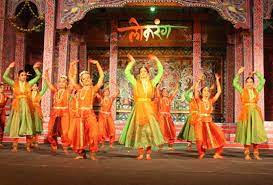 The profound idea of the festival is to revive and revitalize the Indian culture with all its splendor and re-energize its people to appreciate its proud legacy that has been destroyed by 200 years of British domination and dissipation of our heritage.
Khajuraho Dance Festival:
(February 20-26)
Organized by the Madhya Pradesh Kala Parishad, this is a one-week festival of classical dances held annually beside the Khajuraho temples in central India. The festival is conducted in February from the 20th to the 26th. This festival highlights the richness of the Indian classical dance styles such as Kathak, Bharathanatyam, Odissi, Kuchipudi, Manipuri, and Kathakali with performances of some of the best exponents in each field. Modern Indian dance has been added recently. The dances are performed in an open-air auditorium, usually in front of the Chitragupta Temple dedicated to Surya (the Sun God) and the Vishvanatha Temple dedicated to Lord Shiva, belonging to the western group.