HIMACHAL PRADESH
by Dr. Venugopal Menon
'Snow-Laden Province' or 'Lap of Ice' is a state in the northern part of India. Situated in the Western Himalayas, it is one of the eleven mountain states and is characterized by an extreme landscape featuring several peaks and extensive river systems. The state shares an international border to the east with the Tibet Autonomous Region in China. Himachal Pradesh is also known as 'Dev Bhoomi' or 'Land of Gods and Goddesses'. Host to the Dalai Lama, Himachal Pradesh has a strong Tibetan presence.
This is reflected in its Buddhist temples and monasteries, as well as its vibrant Tibetan New Year celebrations. The region is also well known for its trekking, climbing, and skiing areas. Around 90% of the state's population lives in rural areas. The hilly state is almost universally electrified with 99.5% of the households having electricity as of 2016. According to a survey of CMS – India Corruption Study 2017, Himachal Pradesh is India's least corrupt state.
Apart from the fairs and festivals that are celebrated all over India, several other fairs and festivals are highlights of Himachal Pradesh. These festivals are the time for the Himachalis to adorn colorful dresses and accessories and get mixed up with the rest of their kins.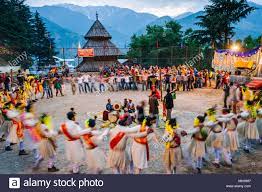 Gochi Festival:
(February)
Gochi festival is organized to celebrate the birth of a male child. Also called Gotsi, the festival is celebrated in February, in the Bhaga Valley of the state. This is observed in the houses of those people who welcomed new members in their families in the form of sons during the previous year.
A day before the festival, the village priest invokes a prayer to the local deity by holding a bow and arrow. Then he visits every home in the village where a male child was born the previous year. All the people of the village assemble on the morning of the festival.
The entire festival is accompanied by the beats of drums known as Lohar. People dress up in their best attires and drink Chaang, a special wine. The festival ends with their dancing to the beat of drums and throwing snowballs at each other.