HARYANA
by Dr. Venugopal Menon
Haryana is a Northern Indian state surrounding New Delhi on 3 sides. The Yamuna River runs along its eastern border with Uttar Pradesh. Shared with Punjab, the state capital Chandigarh is known for its modern buildings and grid-like street plan designed by Swiss architect, Le Corbusier. The state has a thriving economy, are a leading financial hub of the country, the highest per capita income, and home to major fortune 500 companies and IT industries.
Haryana has its traditional folk music, dance and folk theater, and ancestral worship, and arts such as Phulkari and Shisha embroidery. Desi Haryanvi folk music is a form exclusive to the state and is used for celebrating community functions.
Gugga Naumi:
(August/September)
This is a snake worship festival, observed in Haryana, during August-September. Generally worshipped as a demi-god, Goga is believed to protect his followers from snake bites and other types and forms of evils. He is particularly popular amongst the followers of the Naga cult. Initially a deity in Rajasthan, records suggest that Goga is being worshipped from the 17th century in Western Himalayas—probably because of migration from Rajasthan. Goga enjoys unbridled popularity amongst farmers as snakebite incidents and deaths are a frequent occurrence in agricultural farmlands. Amongst Muslims, he is considered to be a peer (saint) who has the power to eliminate the effects of Zahar (poison).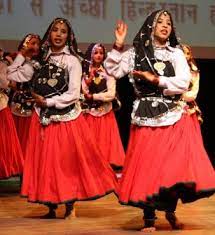 The highlight of the celebration is the Gugga Mela. Bamboo sticks with peacock feathers and a blue flag with colored threads are used as the medium of celebration. The fans carry out a procession on the ninth day along with beating drums across the village. Reverence is offered in the form of "Churma" and "Sevian" by the saints.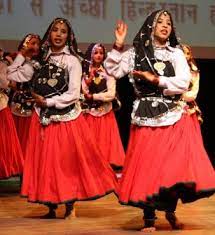 Surajkund Mela:
This is credited as the world's largest International crafts fair. It is a bonanza of vivid art, craft, music and dance, colorful ambiance, ethnic cuisines, and an immersive cultural ethos – a spectacle that is waiting to blow your mind yet again! Occupying a place of pride on the international tourist calendar since 1987, the fair observes more than a million visitors every year, thousands of them being foreign tourists. Getting more and more attractive, fun, and consumer-friendly each year, the Surajkund Mela is not just the best platform for the skilled craftsmen and artisans of India and other SAARC nations to show their talent, but also a wonderful opportunity for the public to learn about their vibrant culture and get to respect the age-old craft that is better than any machine products.