GUJARAT
by Dr. Venugopal Menon
The home state of Mahatma Gandhi Ji, Vallabhai Patel, and Narendra Modi, with areas from the ancient Indus Valley Civilization, is on the west coast of India, with claims to Lothal being the world's first seaport, and being the home for the only wild population of Asiatic lions. The early history of Gujarat reflects the illustrious and imperial grandeur of Chandragupta Maurya, Emperor Ashoka, and the Maratha Empire.
People of Gujarat are enthusiastic and amiable, embracing different faiths and cultures, and noted for their acumen in business and finances. The fairs and festivals showcase their vibrancy and diversity.
International Kite Festival:
This is regarded as one of the biggest festivals celebrated. Months before the festival, homes in Gujarat begin to manufacture kites for the festival. The festival of Uttarayan marks the day when winter begins to turn into summer, according to the Indian calendar. It is the sign for farmers that the sun is back and that harvest season is approaching, which is called Makara Sankranti/Mahasankranti.
This day is considered one of the most important harvest days in India, as it marks the termination of the winter season and the beginning of a new harvest season. Many cities in Gujarat organize kite competitions between their citizens where the people compete with one another. In this region of Gujarat and of many other states, Uttarayan is such a huge celebration that it has become a public holiday in India lasting for two days. During the festival, local food such as Undhiyu (a mixed vegetable including yam and beans), Chikki (sesame seed brittle), and Jalebi is served to the crowds. Days before the festival, the market is filled with participants buying their supplies. In 2012, the Tourism Corporation of Gujarat mentioned that the International Kite Festival in Gujarat was attempting to enter the Guinness World Records book due to the participation of 42 countries in it that year.
Rann Utsav:
This is a cultural and artistic festival organized by the Gujarat Tourism Department every year. The festival exhibits traditional art forms of India and celebrates the uniqueness and diversity of the Kutch district highlighting the cultural splendor of Gujarat. The Rann Utsav has a variety of programs like cultural and folk dances, craftsmanship, music, carnival processions, pageantry, etc.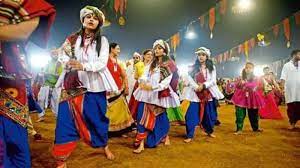 People from various parts of the country gather during the festivities to celebrate the splendid 'White Desert' and the spirit and warmth of the people of Kutch. Many cultural activities and programs are organized during the Utsav that engages every visitor. There is a splendid display of the arts and crafts of the region. The most captivating experience is the showcase of different art forms, dances, and music during the chilling winters under the full moon. Visitors can enjoy living in tents, sit by the evening bonfires, watch artisans work, dance with local folk dancers and enjoy camel safaris.