CHHATTISGARH
by Dr. Venugopal Menon
Chhattisgarh, meaning 'thirty-six forts' is a state located in Central India. Formerly part of Madhya Pradesh, it was granted statehood on November 1, 2000. It is the 9th-largest state in India, with a population of about 30 million. The area was under Maratha rule until the British took over in 1845. Its capital city is Raipur. Chhattisgarh is one of the fastest-developing states in India. A resource-rich state, Chhattisgarh provides electricity, coal, and steel to the rest of the nation, as well as horticultural products like rice, maize, peanuts, soybean and tea. The state is a storehouse of literature, performing arts and crafts with religion, mythology, social and political events, nature and folklore being its favourite themes. Traditional crafts include painting, woodcarving, bell metal craft, bamboo ware, and tribal jewellery. Chhattisgarh has a rich literary heritage with roots that lie deep in the sociological and historical movements of the region.
Bastar Dussera:
(October)
Bastar Dussehra, also known as Jagdalpur Dussehra, is one of the most vibrant celebrations in the country. Centred in the state of Chhattisgarh, this 75-day-long festival (often called the longest festival in the world) is believed to have started in the 13th century, during the reign of king Purushottam Dev (fourth king of Bastar), who was a devotee of Lord Jagannatha of Puri.
Chhattisgarh is dedicated to goddess Danteshwari, the supreme power and revered deity of all existing tribes in Chhattisgarh. The divine goddess is worshipped at Danteshwari temple in Jagdalpur. This is unlike any other Dussera festival in India, which is celebrated for Rama's victory over Ravana. Many rituals have been performed by the tribals of Bastar which attracts the tourist from various locations of India & abroad.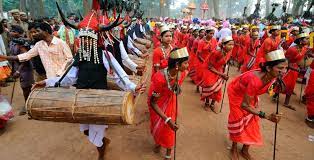 Phagun Madai
(February-March)
Is a significant adivasi festival of Chhattisgarh, Madai is celebrated across the state with gaiety and fervour. Tribal communities venerate Goddess Danteshwari and unite her with local deities from various surrounding villages – about 500 approximately – in the month of March. Devotees bring the idols of the gods to the Danteshwari Temple in Dantewada and honour them for 10 days. They perform the Relo, Cheetal and masked dances and conclude the festivities with a grand feast of fruits and local specialties, along with brews made from the flowers of mahua trees. The festival of Madai begins in Bastar in the month of December, when the Gond tribes worship their local deity, Cheri-Chher-Kin.
The 10-day festival begins in Dantewada on the day of Shivaratri. It is called Phagun Madai as it falls in the Hindu calendar month of Phagun (February–March). Over the next nine days, the tribals worship goddess Danteshwari in nine different forms. On the ninth day, the ritual of holika dahan is observed. The bonfire is held to honour a legendary local princess. After this, devotees smear abeer (coloured powder) on each other and end the festivities with an elaborate feast.